>
>
>
Top Tips For Planning Your First Holiday As a Couple
Top Tips For Planning Your First Holiday As a Couple

Heading off on a romantic holiday together is a major milestone for any couple. Like any landmark event, a bit of good planning is needed to make the dream a reality. From airport stress to accommodation woes and much more, there's a dizzying array of things that could dampen the experience. Which is why every couple should invest in a bit of planning for your first holiday as a couple.
Lanzarote villa specialists Optima Villas are here to give us their 4 tips for planning your first holiday as a couple. There are plenty of ways in which such a holiday can happen while keeping drama and stress to a minimum – paving the way for a blissful break for the two of you new lovebirds.
1) Be Flexible
The first thing to remember when planning your first holiday as a couple is quite obvious, but often gets lost in the flood during the holiday planning process. A holiday should be a time where you can both relax and enjoy some quality time together. The key to this is being flexible and finding a holiday you'll both enjoy, rather than demanding too much of one thing.
If one of you is desperate to go on a hiking holiday and the other is after something a little more serene and sedentary, then a suitable solution could be a private villa holiday set amongst a beautiful, explorable landscape. Recognising that such a compromise is necessary in the first step towards creating a holiday that'll be ideal for both of you.
2) Budget for Treats
Depending on where you're going in the world, eating out and other treats are either going to be prohibitively expensive or so cheap that you'll be indulging as often as you can. If you're journeying to a country where everyday living is pricey, you might end up spending a little more than you'd budgeted for. This could cause a bit of stress between you.
A way of resolving this is to agree how to to treat yourselves on holiday. Save up a little extra so you can then afford those extra treats when you get there. Whether that's a gourmet meal, a romantic couples spa afternoon or an unforgettable experience like swimming with dolphins. Setting the ground rules early with regards to money will avoid any awkwardness later in the holiday, so this is highly recommended.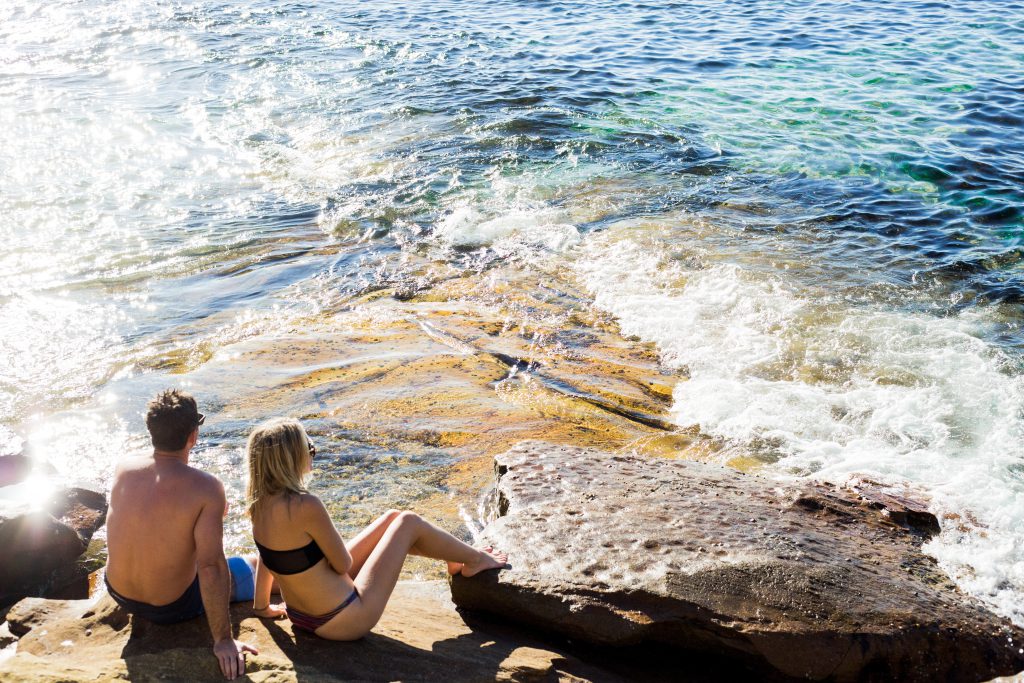 Photo credit: Unsplash
3) Consider a Mini-Break
If you've only been together for a few months, then chances are you haven't really had a proper argument yet. A longer holiday may well be the venue for your first real fall-out. Hot weather and an unfamiliar location may also exacerbate any kind of tiff.
So when planning your first holiday as a couple, it might be worth considering a shorter holiday. A mini-break of 4-5 days will give you the sense of adventure and escapism that holidaymakers crave. But avoid being together for too long on your first trip.
4) Keep the Schedule Relaxed
Whether it's a city break or a hiking holiday to a national park, you might feel you need to see everything you can in the time you've got. However, a tight schedule could lead to arguments and stress. Do you really need to tick off every attraction? Could you take it easy and not stick too religiously to a schedule? Just remember your first holiday as a couple is as much about being away as it is enjoying each others company away from the chores of home.
Wherever you go and whatever you do for your first holiday as a couple, planning your first holiday as a couple is a magical milestone. These 4 tips should hopefully make the reality of that inaugural trip successful, romantic and fun.