Reasons To Not Settle When Dating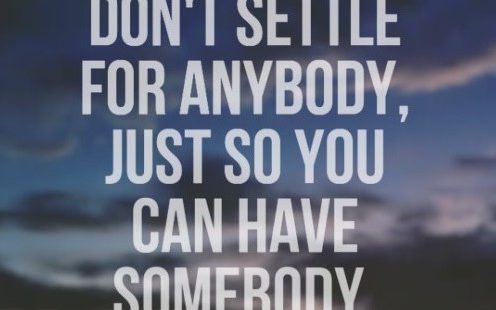 Settling – it's something we all hope we will never do, particularly when it comes to making a decision about a long term partner. But how do you know if you are settling in a relationship or just being too picky?
Here's what dating blogger Jordyn Wegner has to say on that matter. Watch her dating video below and read on for some top reasons to not settle when dating.
Reasons to Not Settle When Dating
Hey UrbanSocial followers, my names Jordyn, I'm from Canada, and I'm a dating blogger and TMC live correspondent.
My dating advice is simple – don't settle. You might feel like all your friends are getting married, having babies, and you're the resident single one that's showing up to family events with no one on their arm. Well don't worry, because when it's meant to be it's meant to be . In my opinion it's better to wait around a little longer and find that perfect person than to settle for someone who's not right for you. So sit back, relax and enjoy the dating experience for what it is.
Happy Dating!
3 Reasons to Not Settle When Dating
There's plenty of reasons to not settle when you are dating. Read on to see our top 3 reasons for not falling into the settling trap.
1) Don't Be Scared of Being Single
The golden rule of relationships is to not be in one just because you're scared of being single or left on the shelf. A recent study by Spielman et al found some worrying facts about those who were most likely to agree with the statements:
'As I get older, it will be harder to find someone', and
'I feel it is almost too late for me to find the love of my life'.
Those more likely to agree with these statements were more likely to consider being in a relationship more important than the actual quality of the relationship. Now stop there singletons. This is definitely not the way to go when it comes to finding a partner. A relationship is doomed if the reason for being in it is to avoid being alone.
2) Settling Could Mean Missing Out
Life is full of gambles and decision making. But one important lesson is that you've got to be in it to win it. If you're settling in a relationship that isn't what you'd hoped for, you're far less likely to be in a position to find someone better. While some of us like to be risk averse, it's worth remembering that an unhappy or average relationship that you settle for means you're probably going to miss out on something much better. You are also much more likely to end up in a failed relationship further down the line, which will be a greater loss.
3) Accepting the Whole Package
There's a difference between settling in a relationship and accepting that perfection doesn't exist. Everyone has their quirks. Some people will see both the positive and negative in all people. The key is to find the happy balance between those bad points in the bigger picture of the relationship as a whole. If the relationship is going well, you have respect for each other, and good mutual understanding, it isn't settling when you accept those annoying quirks and habits that person may have. Settling in a relationship is when you're having to ask yourself if the relationship is right. Trust that gut and act on it.