The 5 Best Romantic Movies Ever Made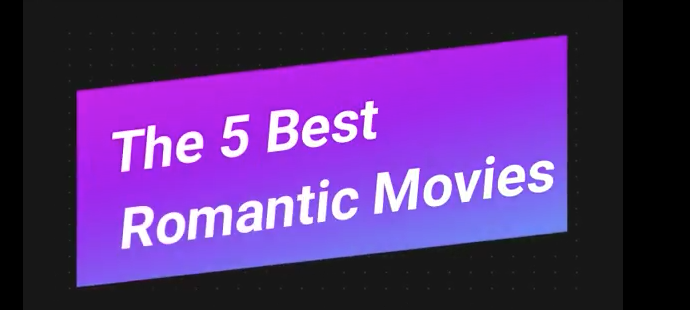 American actress Julie Villatoro gives UrbanSocial her thoughts on the 5 best romantic movies ever made.
See which top 5 romantic movies she chooses and why in her video below. With so many romantic movies to choose from, whether it's romantic action or romantic comedy movies to choose from, there might be a few surprise choices thrown into the mix.
5 Best Romantic Movies Ever Made
"Hi everyone this is Julie Villatoro, your State side correspondent, and I'm here to give you my 5 best romantic movies ever made.
So I'll have to admit these are all incredibly cliché, but that's only because I'm a such a romantic at heart, so you'll have to humour me on this one. These are in no particular order, but I figure I'd start with the first one that comes to mind which I think a lot of hopeless romantics will agree on.
The Notebook
This is one of the 5 best romantic movies ever made. What's not to love about The Notebook. Not only are the stars of the movie incredible, Rachel And Ryan Gosling they have immediate chemistry from auditioning. It was an immediate recognition that these two were made for these characters. I also love the concept of these two crazy kids falling in love at a young age. Then being separated by circumstances outside of their control, and then being re-united. To have all of these feelings of a long lost love to be re-introduced to your life, and want to throw everything out the window to be with that person. It's so romantic. I don't know if that would actually work in real life, but it's nice to dream otherwise.
Number 2 on my list is:
Titanic
I'll never let go Jack, I mean come on. She let go, she definitely let go! But I think he lived in her heart forever. I remember seeing that movie when I was like 10 years old, and balling my eyes out towards the second half of the film. Because these two kids were just from two different worlds. And to be able to find a common ground, which was what, to balance each other out I guess, I think that's beautiful.
Number 3 on my list, and this is a random one. But I figured it this would be for the thriller-loving guys out there, is…
True Romance
With Christian Slater and Patricia Arquette. I mean it's a Quentin Tarantino film, and it's a great romantic movie. He falls in love with this random girl he meets in a movie theatre and they have this whirlwind romance. They are like Bonnie and Clyde, and go off kicking ass and falling in love in the meantime. It's a great action film in my opinion and QT never ceases to disappoint me, so that's another great film.
Number 4, this is a romantic comedy. I figured I'd throw a couple of different genres in here. Also starring Patricia Arquette and Adam Sandler is…
Little Nicky
It's a random one, but just because it's a comedy, it's super cute. This guy that's the devils son, comes back or gets swept up in Earth and falls in love with this corky girl he meets in New York. He has to battle these demons and all this stuff. But it's still finding time to fall in love with somebody, that's so sweet. She is just the cutest character in that film, I loved it.
Number 5 – this one I have a special place in my heart for, and this might be the top choice of the 5 most romantic movies ever made…
My Best Friends Wedding
With Julia Roberts and Dermot Mulroney. I have to admit that I had a best friend that I thought was the love of my life, the better half, the whole thing. He did end up getting married to somebody else. I remember being at that wedding just completely crushed and being like Oh My Gosh I can't believe this is happening. But I felt like My Best Friends Wedding was a pretty good depiction of that. Except it was on a different scale all together. These two professions who have known each other forever and had managed to keep in touch for all that amount of time.
At the end, even though Julia Robert's character was very much in love with Dermot Mulroney's character. She was able to put her issues aside, granted there was a lot of drama and hilarity, and shenanigans. But she was still able to put her pride aside, her desires to be with him, and wish him happiness with his beloved Cameron Diaz's character. I think it was really great film.
So guys those are my top 5 best romantic movies ever made. I'm sure there's more, of course there's always more, but these are the ones I could come up with today. Let me know if you agree."