Keeping the Pleasure Going During Quarantine Dating

Photo: Charles Deluvio, Unsplash
No matter where you're located, it's likely that you are encouraged to self-quarantine right now due to the COVID-19 pandemic. This also probably means that you've put your dating life on hold unless you're lucky enough to be in isolation with a significant other. Whatever your situation may be, we're here to tell you that your sexual health is still important during this time of uncertainty. Here are some tips on keeping the pleasure going during quarantine dating.
Use Digital Health Services
Due to the amount of extra time that you have available, take advantage of it. Get yourself tested so that you are good to go when you start dating again. Likewise, it's a great time for couples to get tested together while in quarantine. That way they can comfortably and safely carry on with getting it on during quarantine dating. It is recommended that individuals get tested for STDs every time they switch sexual partners, at the very least. Look into if your area provides access to at-home testing kits if you're due for a check-up. Symptoms for STDs aren't always noticeable. Some warning signs to watch for include lower abdominal pain, discharge from the vagina or penis, and itching or irritation. Although many physical stores are closed, there are still plenty of services available to stay on top of our sexual health.
If you're quarantining with a partner, then be sure to take advantage of telemedicine companies that offer services. These range from condom delivery to online birth control prescriptions, so that you can keep having all the safe sex you desire. You can even get help with sexual difficulties. For example, if you struggle with erectile dysfunction, you can order a once-a-day medication via your online prescription. Or why not seek digital sex therapy for a lack of sex drive through online counselling. Establish a sexual health routine while quarantined with your partner or prepare for when you enter the physical dating scene again!
Take Advantage of Online Dating
Joining an online dating site is a great way to make a connection before meeting someone in person, especially right now. There's been an increase in online dating users during this pandemic, which means there might be more opportunity to find your perfect potential partner. Take time creating your online dating profile to demonstrate all of your wonderful qualities. Put yourself out there and start talking to someone new!
If things are going well and you feel ready, consider using an app where you can see each other's faces, like FaceTime or Snapchat. This will allow you to strengthen your connection and make it less awkward when you do meet face-to-face after the pandemic. Although you may not be physically getting it on at the moment, you can still find pleasure in the connection. Maybe exchange some saucy pictures if you're comfortable! Have fun with online dating and embrace it during this time of uncertainty.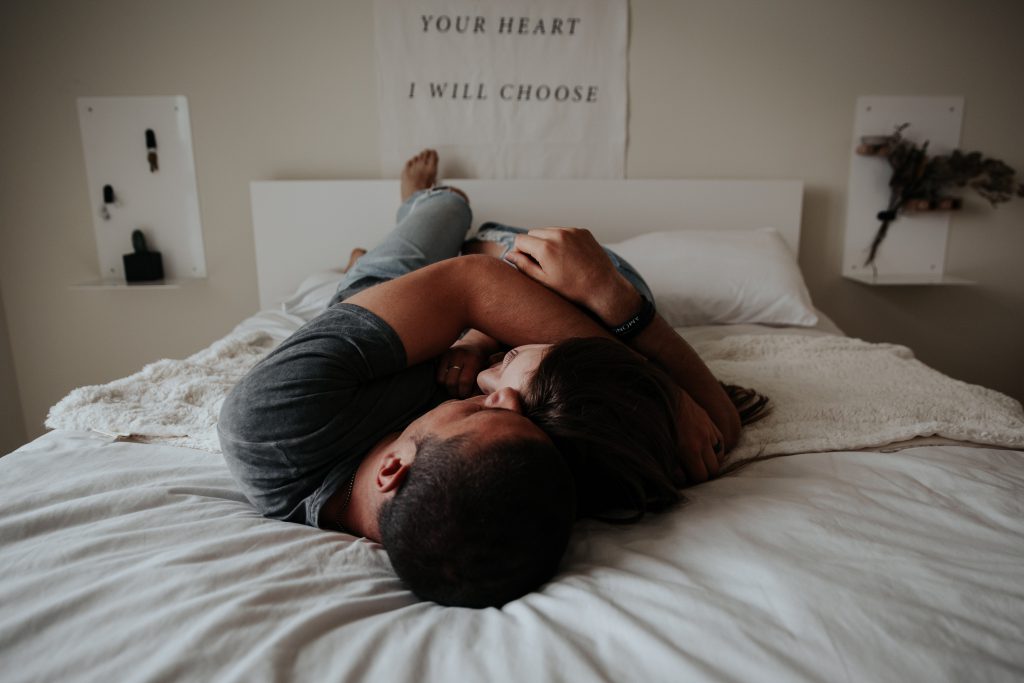 Photo by Becca Tapert, Unsplash
Stay Connected With Your Partner
The internet is booming with ways to stay connected with your partner if you are currently not in the same household. From having a Netflix viewing party through a browser extension to using a long-distance sex toy, the ways to stay connected are endless. Sexting and phone sex are also great options if you and your beaux want to keep things steamy from a distance. Get creative with being apart and use it to build up excitement for when you're together again!
Spend Time With Yourself
If you're confused about whether dating during the coronavirus is beneficial or not, then don't sweat it! Spend quality time with yourself during self-isolation instead. Don't be afraid to experiment and find out what you like and dislike in bed through solo masturbation. Take the time to prepare for when you reenter the dating scene by increasing your libido, exercising, and eating healthy. You could also take the time to indulge in other self-care activities, like meditating or journaling, to find joy in each day.