>
>
Top New Year Dating Resolutions for Singles
Top New Year Dating Resolutions for Singles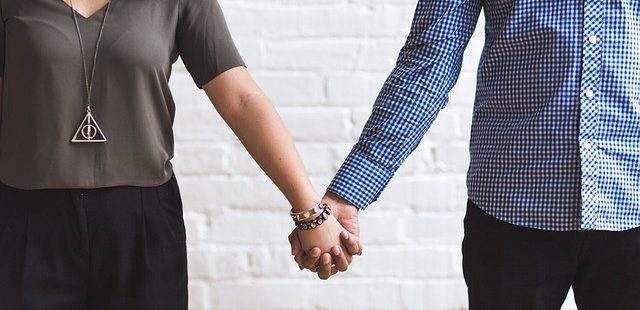 Top New Year Dating Resolutions For Singles
Fit into your skinny jeans, chuck out the chocolate, save more money. Every year we start thinking about all these new year resolutions we want to better ourselves with. But, have you ever thought about changes you can make to your dating life? If you're single, you should also be starting on the new year dating resolutions for singles programme! This is more simple than it sounds, but involves changing attitudes to old habits and opportunities that you might have been missing out on.
New year dating resolutions don't need to be about finding 'the one' or to be in a long-term relationship by the end of the year. Goals like that you can't have any control over. But doing things like trying out a new dating event. This not only will be a bit of fun,  it will introduce you to more single men and women. Plus, it gets you back into the swing of meeting new people again. Then when the right person comes along, you'll have had some practice, and be ready to dazzle them for that date.
Top of the list for new years dating resolutions for singles is being more open-minded and trying new things to meet singles.  Love and romance doesn't land in our lap these days, and all too often it passes us by without realising. Everyone is guilty of living their lives too much through their gadgets. We miss dating opportunities in the real world, relying too much on social media or apps. This year is about being out there and having more face-to-face opportunities.
With this in mind, here are our top recommendations for new year dating resolutions for singles. It's time to take fate into your own hands and create reasons for meeting single men and women around you.
1. Agree to Be Set up
Groan, groan. We know, it was a disaster before, your friend was way of the mark, never again! Well, many successful long-term relationships have resulted from a friend setting up their single pals or introducing them at a social gathering. So it's time to give your friends judgement another go. Give them a nudge, and ask around if any of your friends know any single girls or singe men that they could hook you up with. This one might be a keeper!  Mr or Miss Right might have joined the team or started at the sports club, and could be your perfect date. So, let history or the cringe-factor go, and aim to get set up on a date as soon as possible this year.  You never know who it might lead you to.
2. Create Some Set-Up Social Gatherings
Another great way to meet some new faces is to set up a party or gathering where friends can invite new people. Whether it's a local 5k, a DIY poker night, circuit class in the park or a night at the pub. Round up a group and ask for new people to be brought along. It will appear organic and natural and will expand your network. Perhaps that cute girl your friend knows will come along with a friend or two.  The best dating advice here is that meeting new people organically is key. By this we mean in an environment you can be your natural self. Being yourself is most likely to lead to a natural conversation and a showcase of your personality. This will help you make that first great impression, and put you in a great position for number swapping and a next date.
3. Turn Down People Only Out for Themselves
You can always tell those dates who like talking about themselves and aren't really interested in finding out about you. Yet, many single men and women still go out to pursue them and date them. Are we that insecure that we don't think we will find anyone better, or think that they will somehow change once they get to know us? With this type of thinking, there will only disappointments to come. If a new date shows that he's only really interested in himself, ditch him. Whether they're not concerned about you getting home safely or talking about themselves the entire evening, it says it all.   That person isn't for you. Move on. Don't waste your time no matter how hot they are. For whatever reason, they are currently not in the right frame of mind for dating you. So do yourself a favour, and get back online or move onto the next one your friend might know.
4. Try a New Dating Website
They do get a bad rap for only having profiles of people who are players, multiple daters, or people so desperate for love it's the only way they can meet someone. And, truth be known, there are some dating websites like this.
But…fear not. There are plenty of dating sites filled with genuine members looking for someone special, or wanting a relationship. One bad online dating experience doesn't mean they will all be the same. Our new year dating resolution for singles is to stick to the online dating brands that have been around for a while, and also have a subscription based membership system. Free dating sites have less checks in place for members joining, and tend to attract quantity over quality. The best dating sites will be an ODA member and have an online dating protector badge. Register with a few sites first and have a look at the members. You will soon get a feel for which dating sites have the sort of singles you're looking to meet.
5. Make the First Move
Oh, how we sigh when we log into our dating profile and see that there are no new messages for us. Or that a hottie checked out our profile and moved on without even saying hi. Firstly, it might be worth checking your online dating profile in case you're not making the best of it. Click here for more information on how to write the best online dating profile, which will put you in the best position for receiving messages.
But…have you also considered being the one to make the first move by sending a message? In the modern world, we're way past waiting for the other person to contact us. It's all about equality these days.  So, go ahead – wink, wave or write a little message to say hello. This should be a top new dating resolution for singles far and wide.
6. Get Offline as Well as Online
As you get older, it can be easy to get home at the end of a long day at work and think about how tired you feel and how you just want to relax indoors. It is easy to say no to that drink after work, turn down that housewarming invitation and instead check out your social media channels in your PJs.
We've forgotten what it's like to actually socialise in person and at the end of a long day it can feel like a stretch too far. But, getting out to something – if only for a couple of hours – can get you meeting new singles and also get your brain involved in a new activity. By doing this, you can boost your chances of meeting other singles tenfold. Being your natural self doing something will also make people more drawn to you than how many 'likes' you got for your latest status update. So another must new year dating resolution for singles is to get off the sofa, and make that extra effort to socialise. Sometimes those events you dread turn out to be the best!
7. Change Your Mindset
Without even realising it, the way we think becomes habitual and we get so used to it that the thoughts we have affect what we do and the decisions we make. A guy who works in TV? You might think he's not worth dating.  Perhaps you assume his job is too glamorous or that he's around many attractive women all day. Or you might think that somebody who works in TV will always work long hours and wouldn't have time to see you. By changing your thoughts to give other singles like this a chance,  you make yourself open to more dating opportunities.  Maybe dating that single woman who has a tattoo of her ex isn't actually that bad…
It might take real effort to re-think these ideas, but try breaking your thought pattern for at least 6 weeks. This could not only be the new year dating resolution you needed, but it is said new habits can emerge. The same goes for your thoughts, so a more open attitude to dating opportunities can only be a good thing. It's time for you to be the 'Yes Man' for a while, say yes to everything and see where it takes you….
These top 7 new year dating resolutions for singles should spruce up your dating life for this year. Give it a try and see if it brings in new single men and women you might otherwise never have met.  Get out there singles, open your mind, and get new year dating!