19 More Sidesplitting Valentine's Day Cards for Single People

Has it been a year already? Valentine's Day is upon us once again, and just like last time, we wanted to spare a thought for the single people of the world. Did you know there are plenty of Valentine's day cards for singles too.
While those loved-up couples are spending their hard-earned dosh on heart-shaped merchandise, singles will be feeling a little left out on this most romantic of days. Right?
Probably not.
But that doesn't mean they shouldn't get a card.  Remind them Valentine's Day is boring, and it's more fun being free and single with one of these hilarious handmade Valentine's Day cards for singles. There's something for every type of single person here, whether they are actively dating or not.
1. A Big, Broad Smile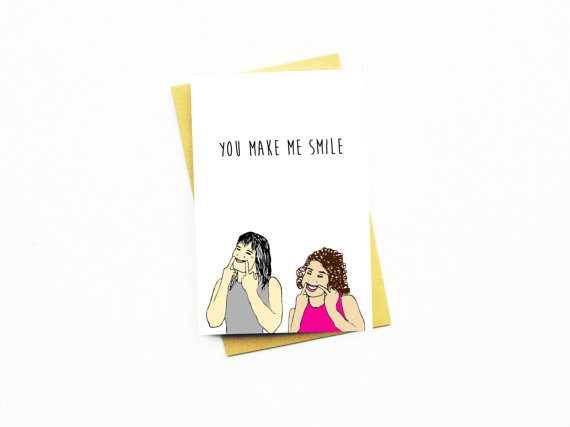 If anyone knows friendship, it's Abby and Ilana. Broad City's dynamic duo set the bar high, and you can show your bestie that they make you smile too with this cheeky card.
Credit: nocturnal paper | Buy Here
2. A Task Shared is a Task Halved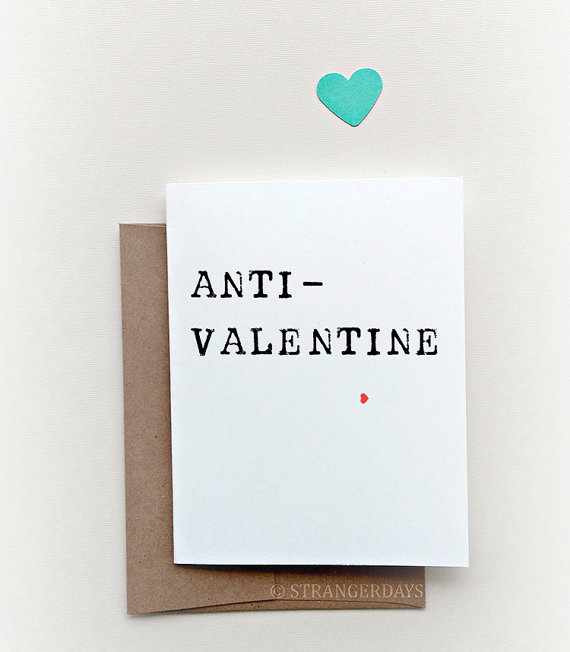 Hating Valentine's Day shouldn't be a solo endeavour. Make plans with your single pals to reclaim February 14th as a day of wine, pizza, good company and fun. Who needs a date anyway.
Credit: Stranger Days | Buy Here
3. Bitter, Sweet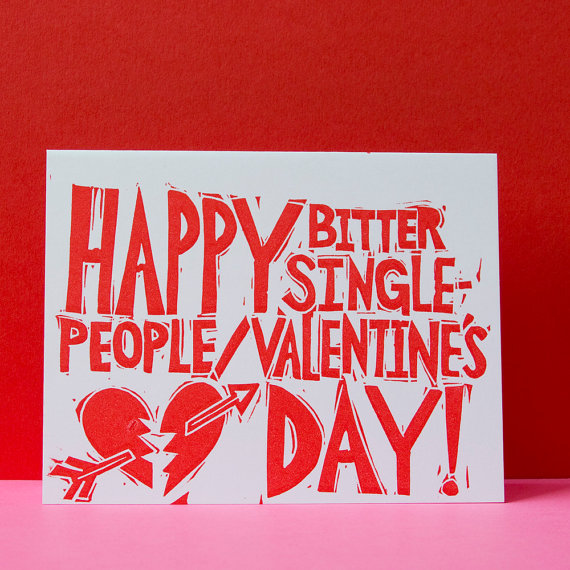 Show someone you care by showing them how little you care!
Credit: Papa Llama | Buy Here
4. For the Cat Lady in Your Life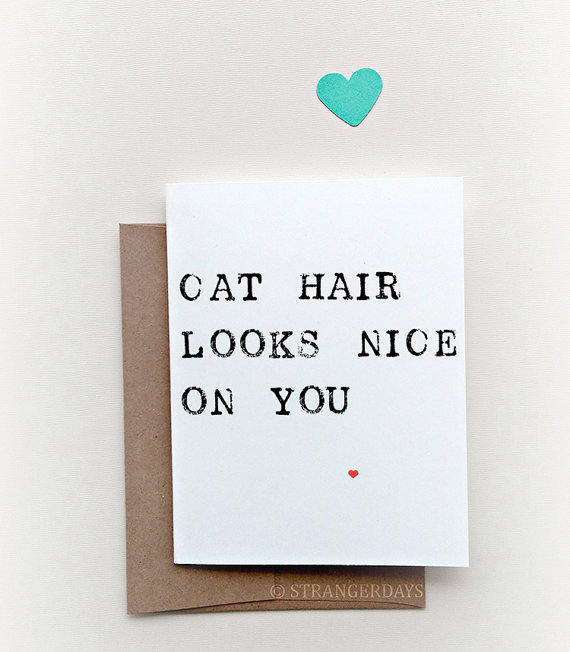 An ideal Valentine's day card for singles with furry friends. Miaow!
Credit: Stranger Days | Buy Here
5. It Just Isn't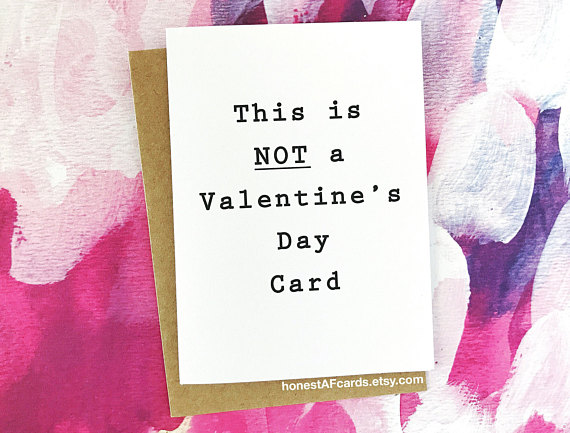 Don't beat around the bush. Get the message across on the outside, before letting your single pal know how much you care on the inside.
Credit: Honest AF Cards | Buy Here
6. Bargain Hunters Unite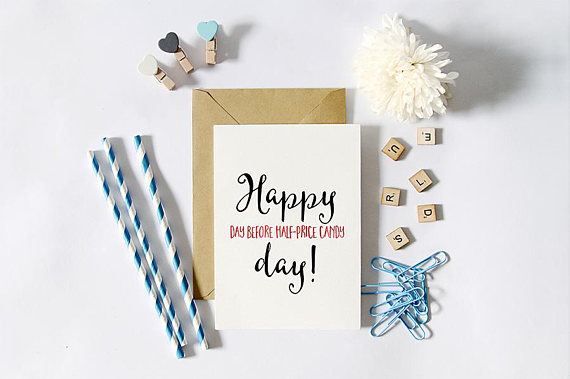 Only one more sleep until cheap sweets!
Credit: Paper Hugs Printing Co | Buy Here
7. Celebrate Together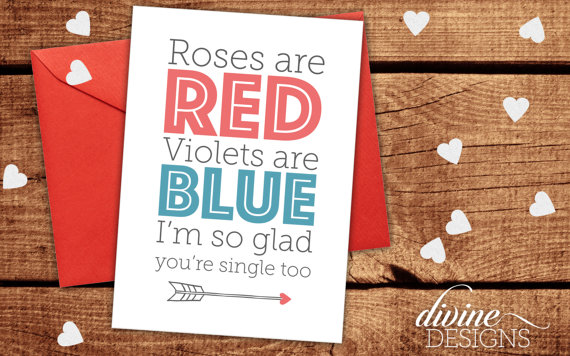 Show your friend their current relationship status is greatly appreciated.
Credit: Divine Designs Co | Buy Here
8. Put the Razor Down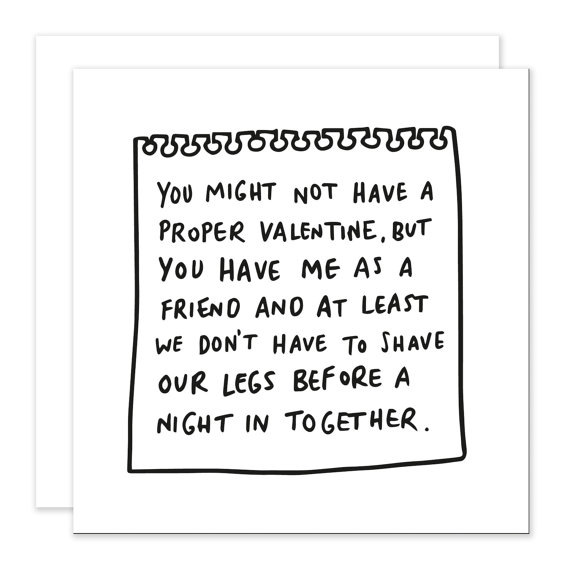 You don't need smooth legs for a fun night in (thankfully).
Credit: Veronica Dearly | Buy Here
9. Wish for More Wine?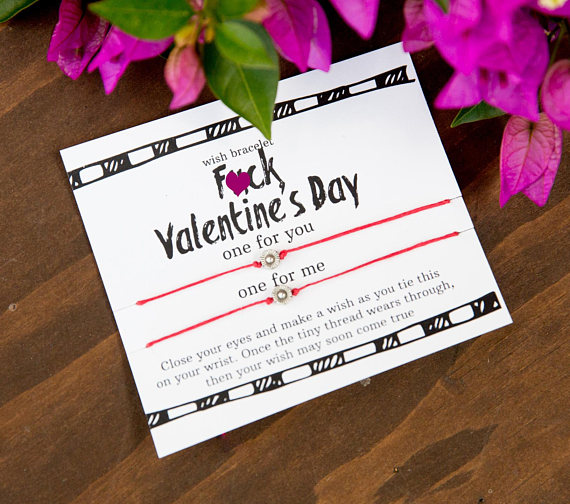 A great Valentine's day card for singles. A friendship bracelet to celebrate hating V-Day? Sign us up!
Credit: Leo and Lovey | Buy Here
10. Well, That's a Fair Point
You can't argue with that logic.
Credit: Shop Insincerely Yours | Buy Here
---
---
11. Will You?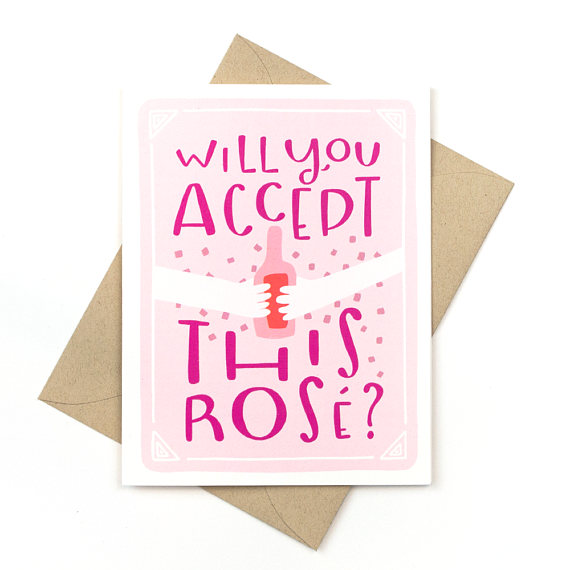 Personally, we'd turn it down if it isn't chilled.
Credit: Pinwheel Print Shop | Buy Here
12. Sock It To 'Em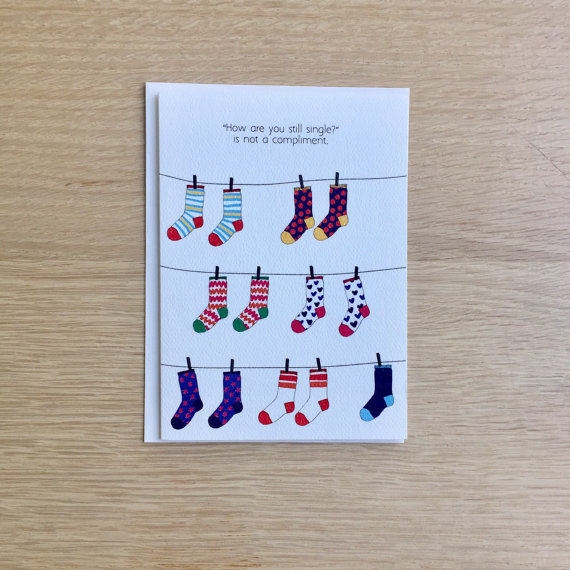 For your single friend who doesn't care they're not in a pair.
Credit: Junk Punch | Buy Here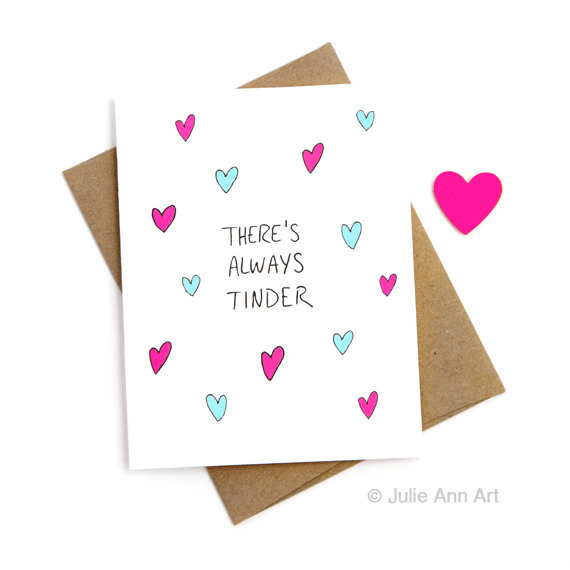 Give that reluctant single friend a nudge.
Credit: Julie Ann Art | Buy Here
14. Get to the Point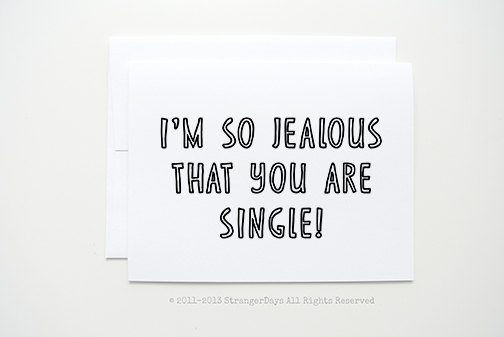 Sometimes it's nice to hear that you're being envied. A great Valentine's day card for singles who always think the grass is greener!
Credit: Stranger Days | Buy Here
15. Boost an Ego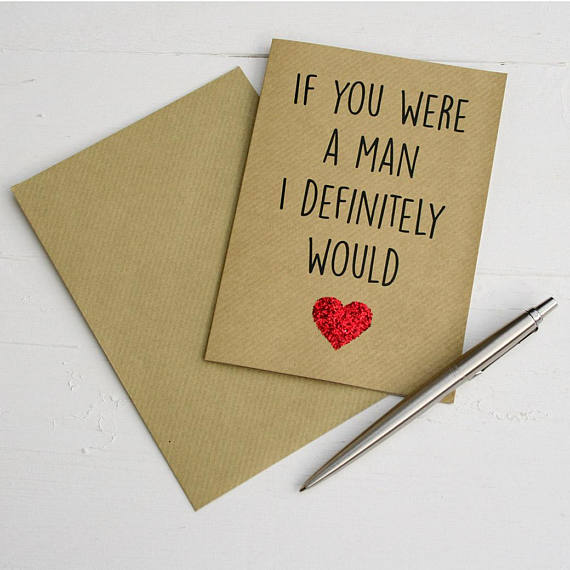 Just don't send this to your single male friends. Talk about awkward.
Credit: Juliet Reeves Designs | Buy Here
16. Unlike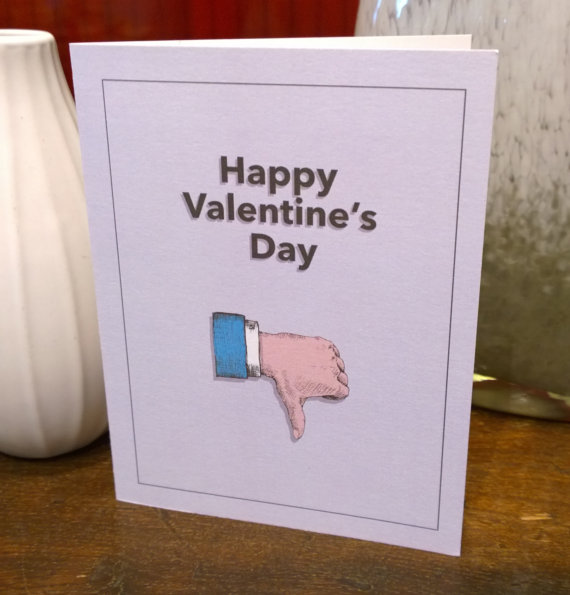 A big thumbs down to this Valentine's Day nonsense.
Credit: Brand Writer Shop | Buy Here
17. Cheeky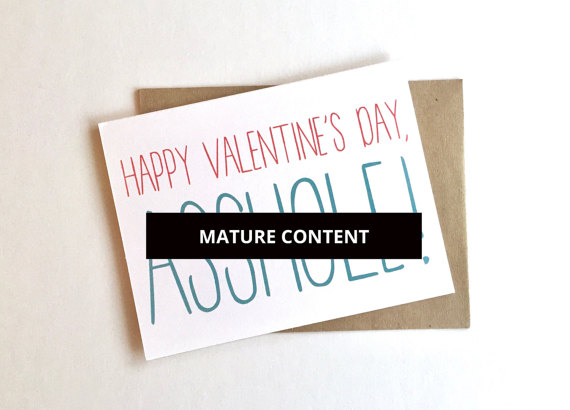 Protip: Don't send this to someone you've only just met. This is definitely a card reserved for a strong and long friendship!
Credit: No Coast Paper Co | Buy Here
18. Status Update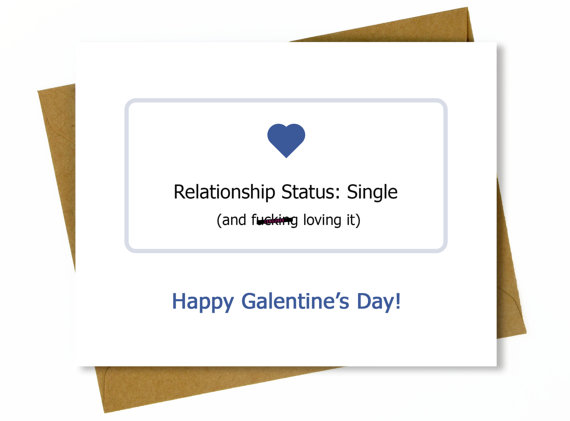 It's really not Complicated.
Credit: Hella Fresh Designs | Buy Here
19. Roll Safe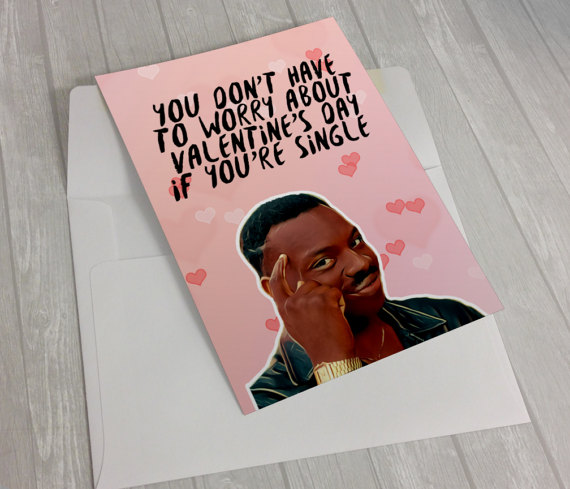 You don't have to pretend you're down with the kids if you know your memes. *Points to temple*.
Credit: Slang Editorial | Buy Here
---
Have we missed any from our list of Valentine's Day cards for single people? Do you have your own v-day idea for the singles in your life?