24 Hilarious Valentine's Day Cards for Singles

Let's just cut to the chase – Valentine's Day can be a bit rubbish. Especially if you're single.
If you've been anywhere near a supermarket since just after Christmas, you'll have seen your fair share of heart-shaped balloons, heart-shaped chocolates, and saccharine, cheesy, lovey-dovey greetings cards.
You're probably sick of it, and who can blame you? So if you want to show Hallmark who's boss this February 14th, send one of these brilliantly creative V-Day cards made by brilliantly creative people to one of your single friends.
1. People ARE idiots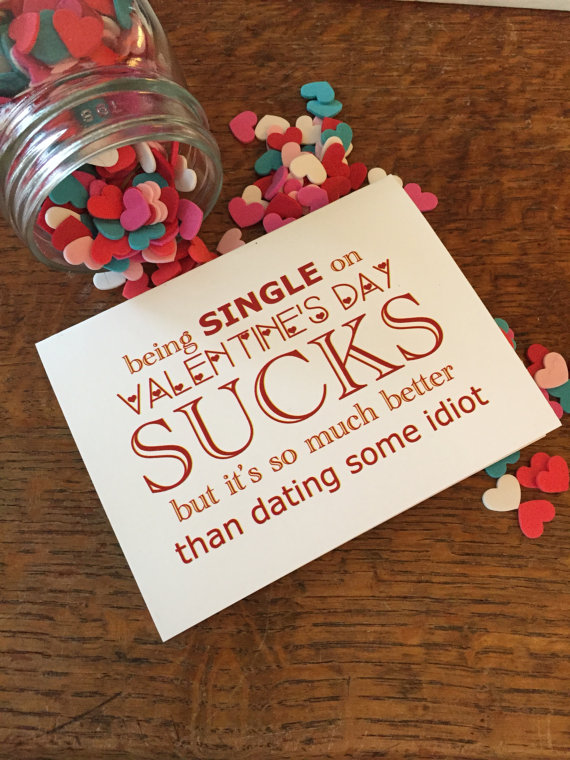 Snap your single friend back to reality and help them see that Valentine's Day could be so much worse! Oh, and this one's a print-at-home digital file, so it makes for an ideal last-dash option.
Credit: ONE girl many ideas | Buy Here
2. Friends forever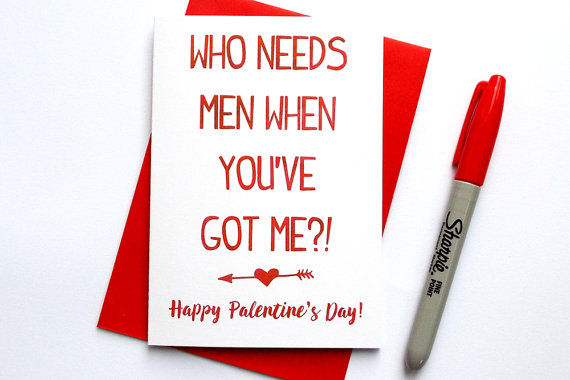 Who needs men, eh? Show your single friend that you'll be there for them (when the rain starts to fall, etc.)
Credit: Paper Sheriff | Buy Here
3. Be a little bubbly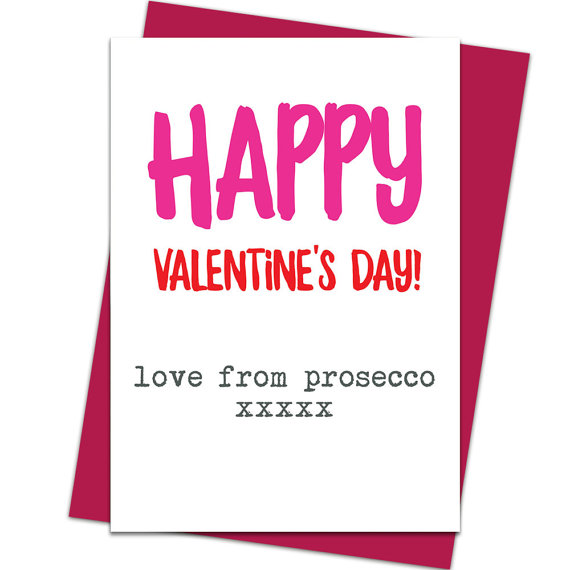 Send to your friend, or send to yourself. Just make sure there's an accompanying bottle of prosecco!
Credit: Lima Lima Cards | Buy Here
4. Speak the truth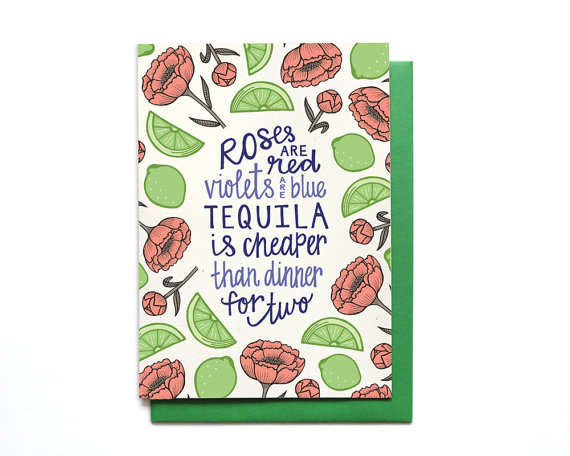 Roses ARE red. Violets ARE blue. And, yup, the rest of this card checks out too.
Credit: Hennel Paper Co | Buy Here
5. Puppy love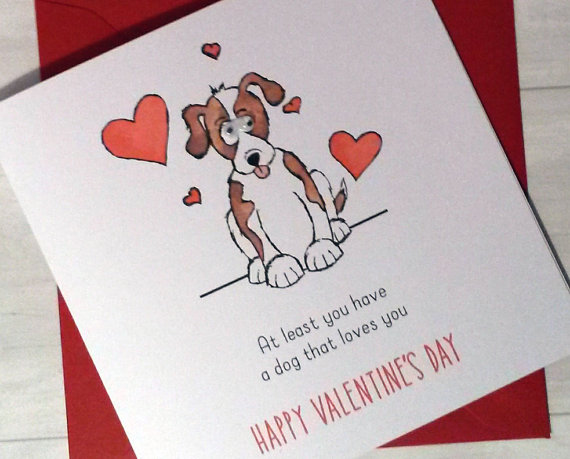 One for the dog-lover in your life. Let them know they're adored by both you and their four-legged friend.
Credit: Silly Prints UK | Buy Here
6. Be the best wingwoman known to man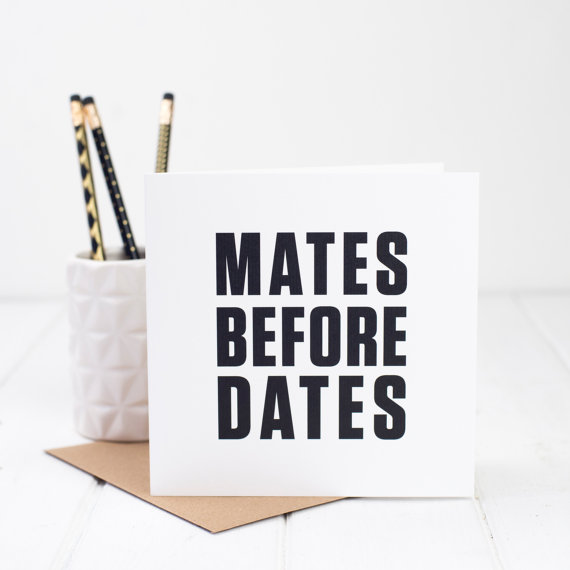 Don't abandon your best friend on Valentine's day. Show them it's ALWAYS mates before dates.
Credit: Bespokeverse | Buy Here
7. Go nuts for donuts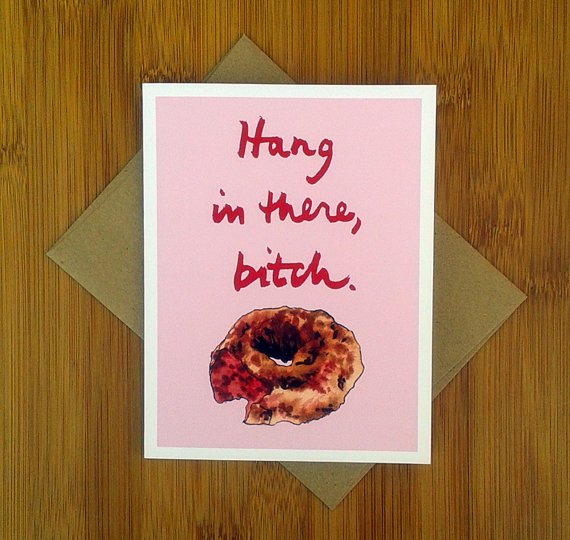 That's a BFF rallying cry if ever we heard one.
Credit: Tamara Garvey | Buy Here
8. Come in like a Wrecking Ball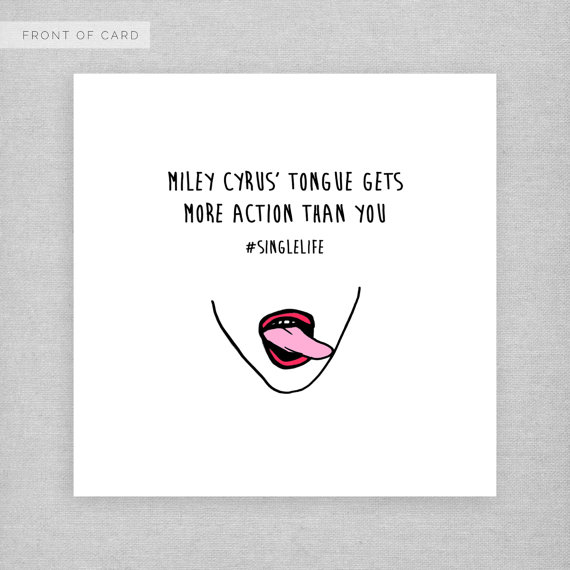 Be a little cheeky and put a smile on a single friend's card with this naughty Miley Cyrus-themed effort.
Credit: Naughty Little Cards | Buy Here
9. There's no such thing as bad pizza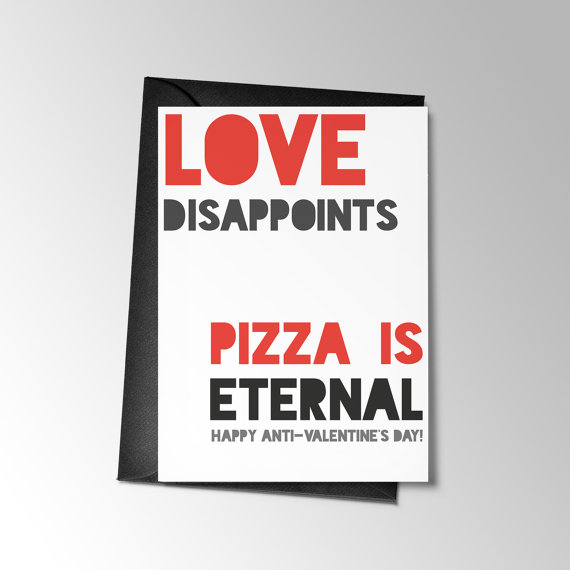 Celebrate anti-valentine's day by reaffirming your love of pizza. Hey, maybe you could even stick a gift card in there for a well-known pizza establishment?
Credit: The Antlered Seal | Buy Here
10. Worry no more…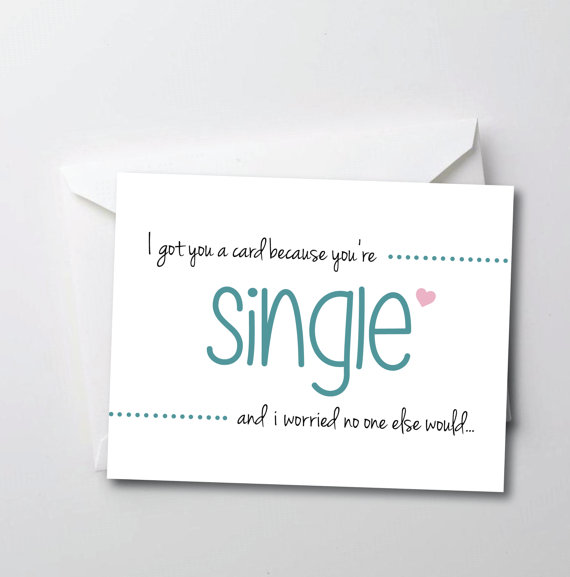 Be a good friend and guarantee your single pals have at least one card to open on the big day.
Credit: The Sour Peach | Buy Here
11. Be an amazing friend to your amazing friend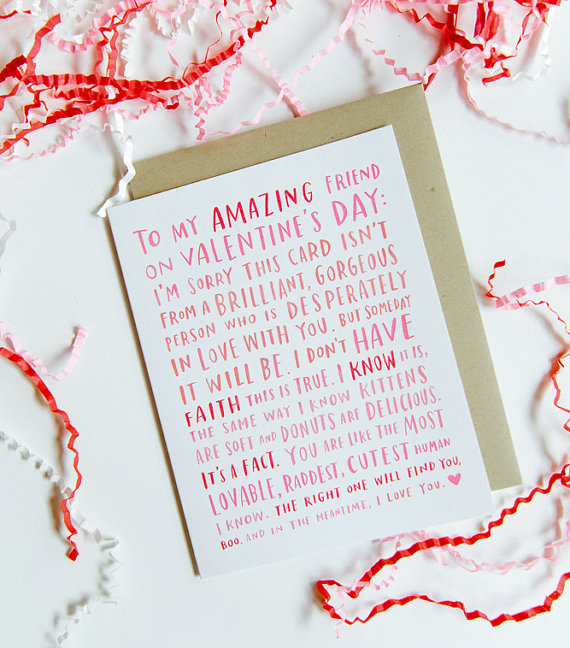 Cheer up your single friend on this cruelest of commercialised days by letting them know they're loved – big time.
Credit: Emily McDowell Studio | Buy Here
12. Take back V-day from the love-struck…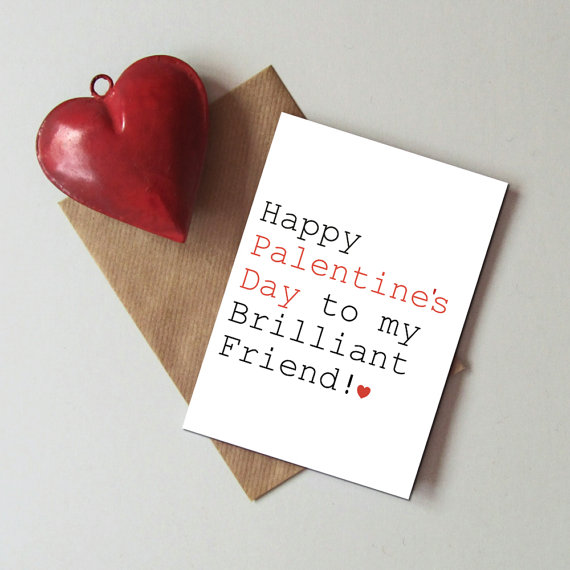 Celebrate Palentine's day instead! All of the fun, none of the disappointing candy or sorry petrol station flowers.
Credit: Always Sparkle Art | Buy Here
13. In the pink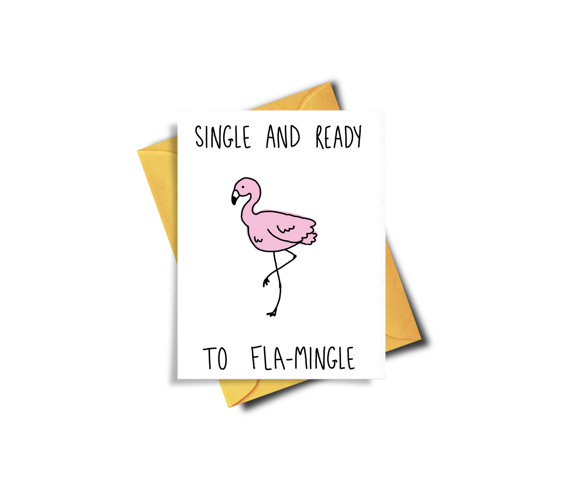 Hey hot stuff – time to get out there and shake your tail feathers!
Credit: BAECKANN | Buy Here
14. You're so alone…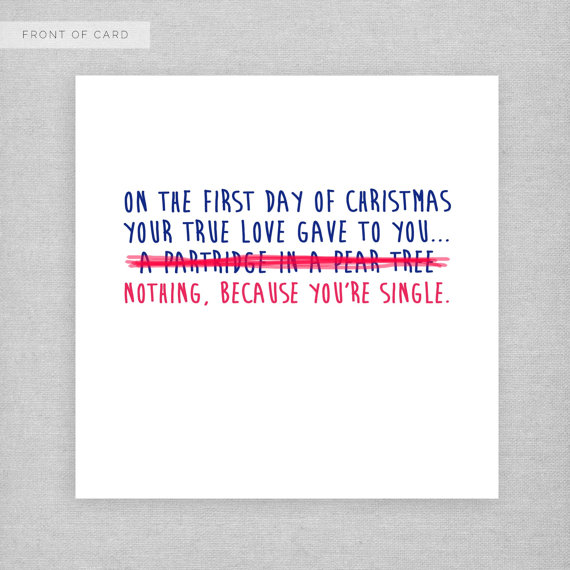 Want to be a little cruel? Repurpose this Christmas card as a V-day card and remind your single friend that they're so damn alone. (Please take them out for a cocktail or two after!).
Credit: Naughty Little Cards | Buy Here
15. The claws are out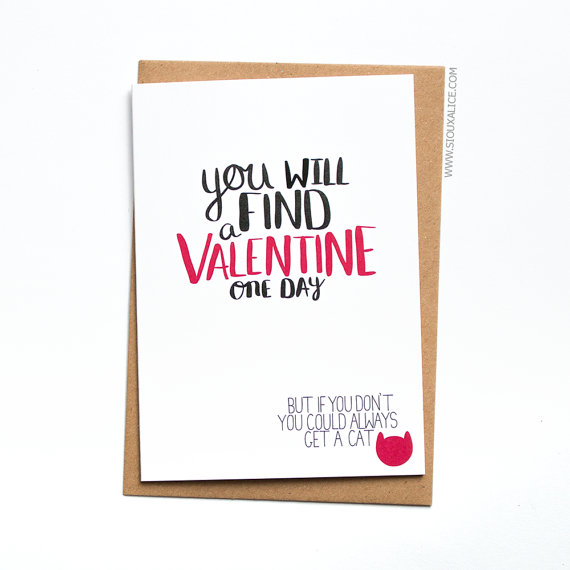 Show your friend you have faith they'll find love one day – with two legs, or four.
Credit: Sioux Alice | Buy Here
16. Happy V-Day A-Hole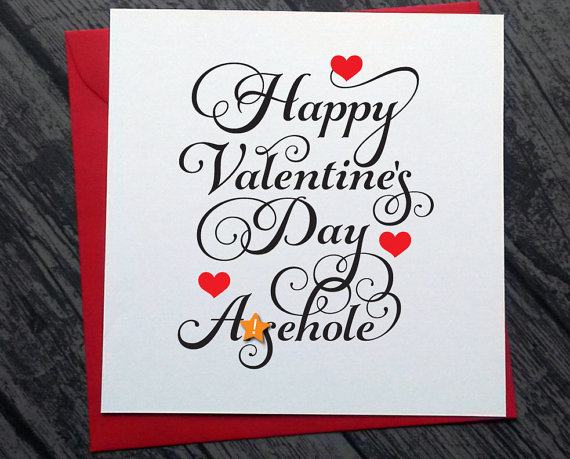 Class meets crude with this exquisitely designed card calling your dearest friend an arsehole on a day to celebrate love.
Credit: Silly Prints | Buy Here
17. Good vibrations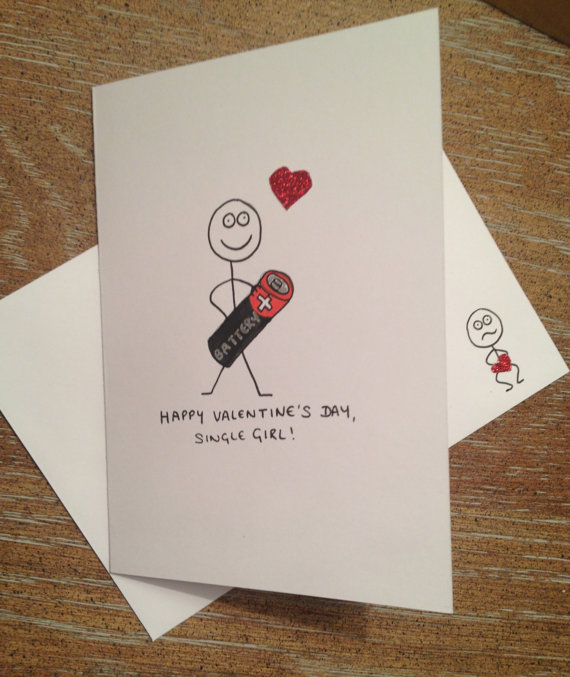 Here's a card for your single gal pal who definitely has a Valentine's date with her bedside drawer.
Credit: Nakedorno | Buy Here
18. A change of habit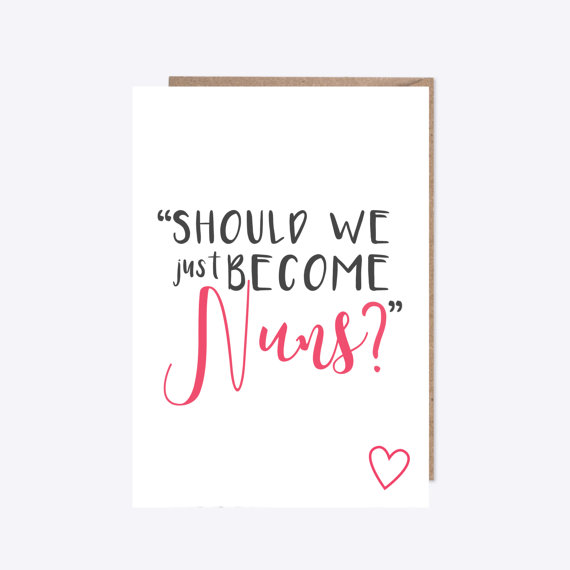 No action on the horizon for you and your bestie? Make a convent covenant…
Credit: The Vintage Deer Co. | Buy Here
19. Dammit Cupid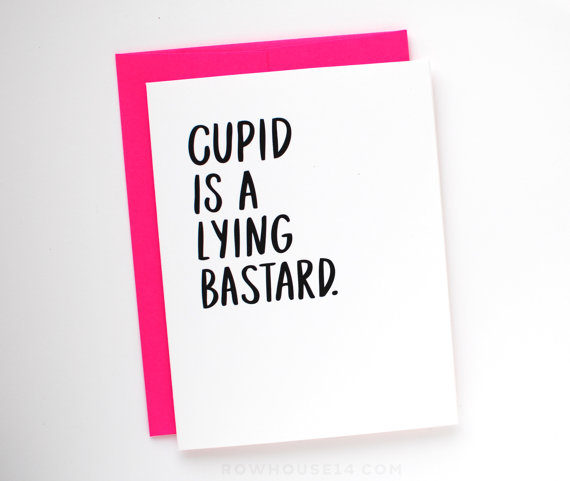 Show that little winged so and so what you really think!
Credit: Row House 14 | Buy Here
20. That about sums it up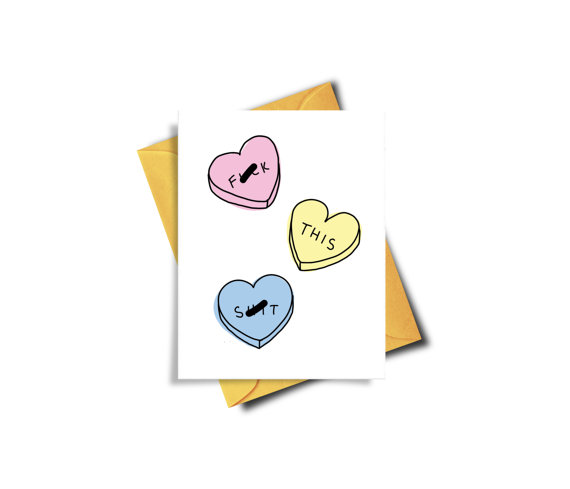 Yup.
Credit: BAECKAN | Buy Here
21. Sizzling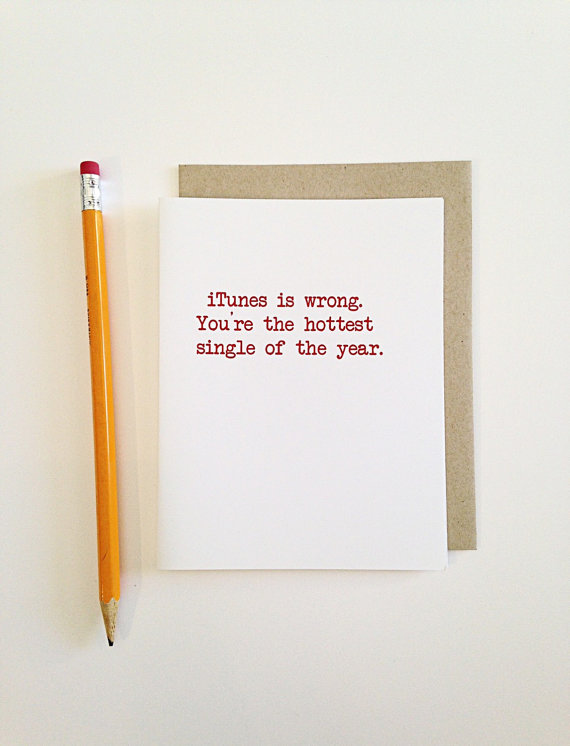 A little confidence boost never did anyone any harm.
Credit: Cho Be Art and Design | Buy Here
22. You're #winning!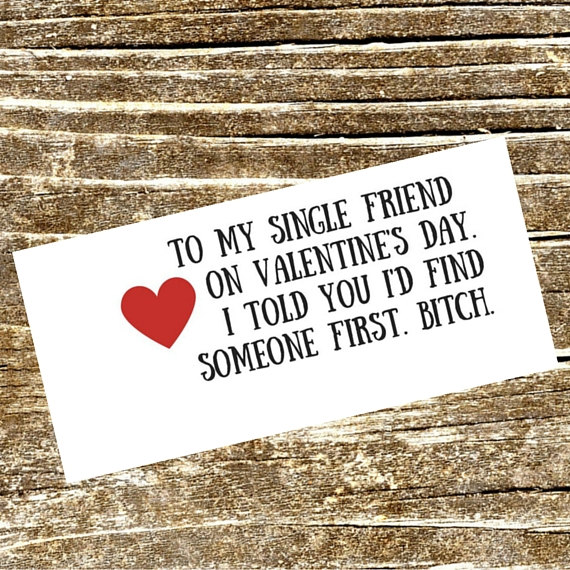 You're only truly winning when someone else is losing…
Credit: Lanier Printables | Buy Here
23. It's a matter of fact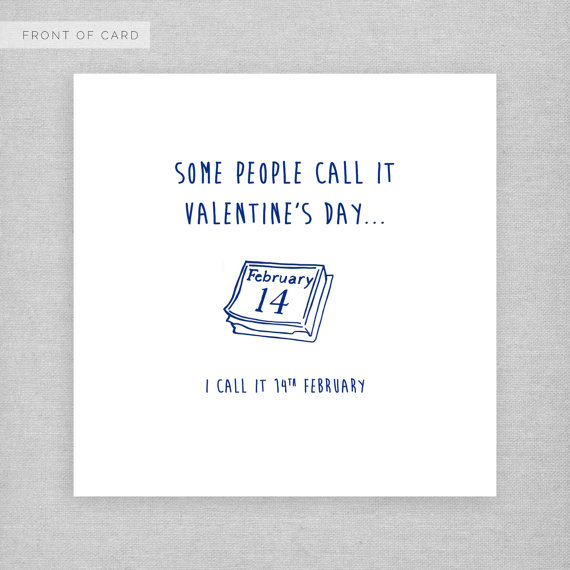 It's just another day. Nothing special about it.
Credit: Naughty Little Cards | Buy Here
24. Stick together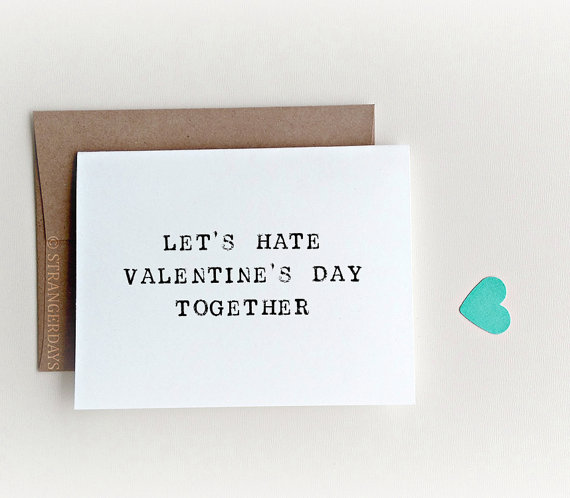 Do you have a single friend who hates Valentine's day as much as you? Send them this and stick together.
Credit: Stranger Days | Buy Here
Have we missed any from our list? Or do you have your own v-day idea for the singles in your life?
Let us know on Facebook or Twitter!